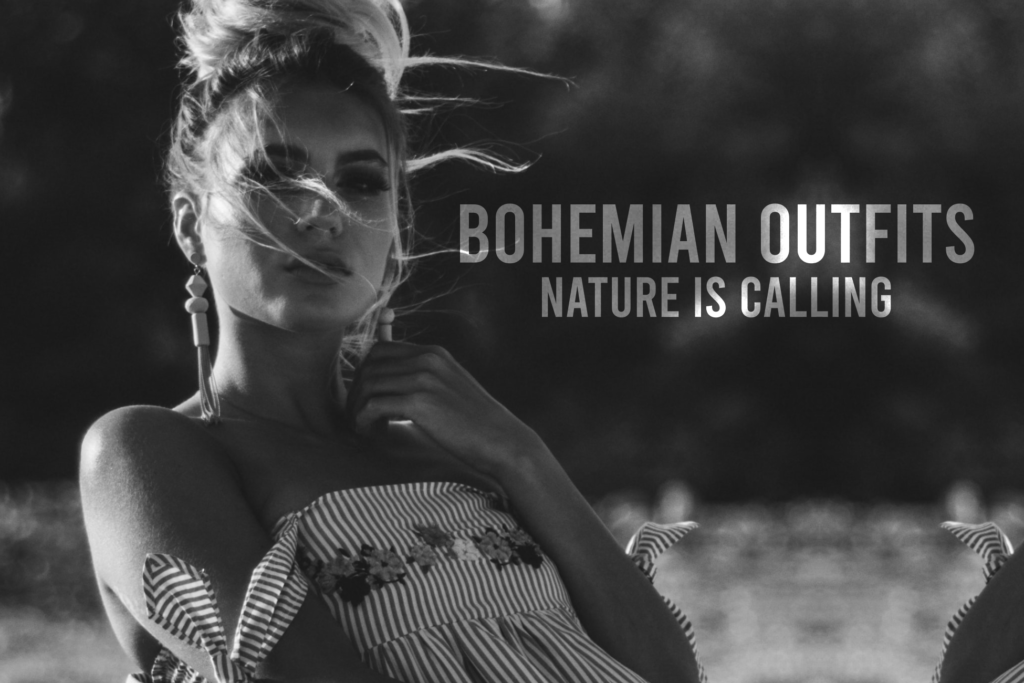 Boho outfits and festivals could rhyme, this is how much they can go together, Coachella is one example.
As there are many many possibilities, we have created for you what we consider to be the best boho selection to help and facilitate your research so you don't get lost on Pinterest XD. (We did)
Note: As most of the festivals take place during Spring or Summer most of the products in our selection are usually breathable and light layered.
Find below the article breakdown:
Note that all the items that are listed in this article (and this is valid for the whole website) are 4 stars out of 5 and above. We want you to get the best out of this post and save you some time in your outfit research and finding great items for cheap.
1) Boho Clothing: Tops
Bohemian Floral Lace Crochet Top
One of the best top you can find in the Bohemian realm! Sexy and wild yet sober, this top IS a perfect balance!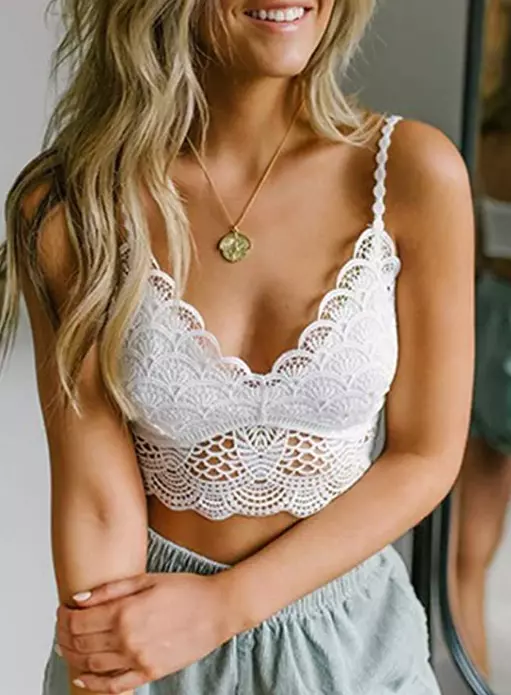 Half Cami Lace Longline Bralette Bra V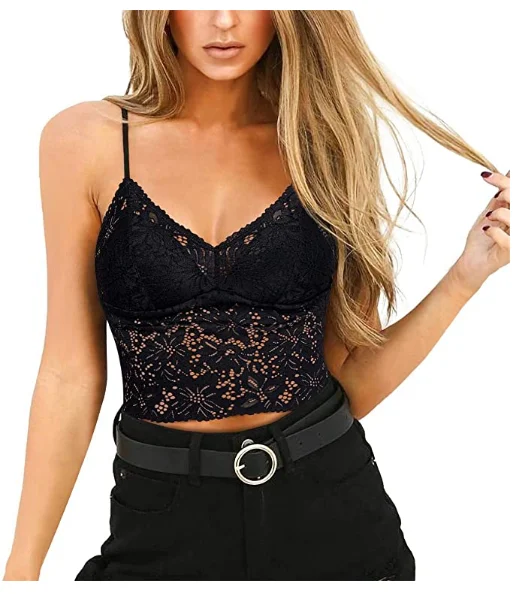 Sexy Paisley Bandana Top: A less famous outfit but a marvelous one.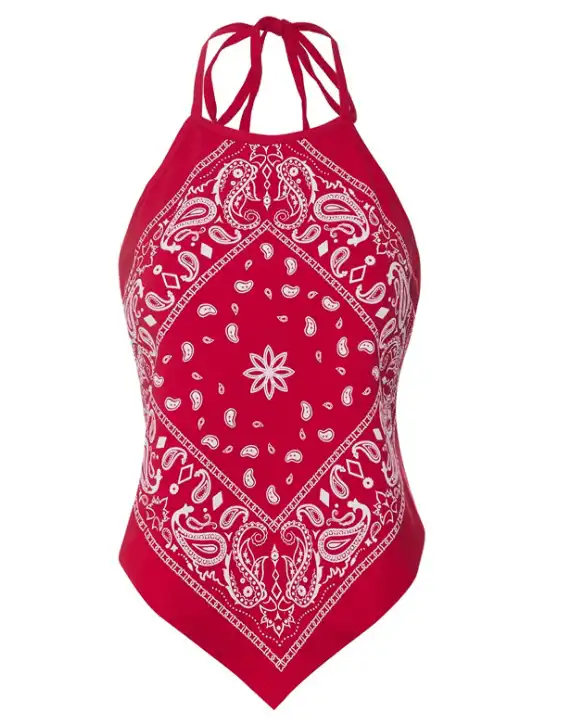 Sleeveless Scoop Neck Strappy Backless
For Summer this one makes a killing, have a look.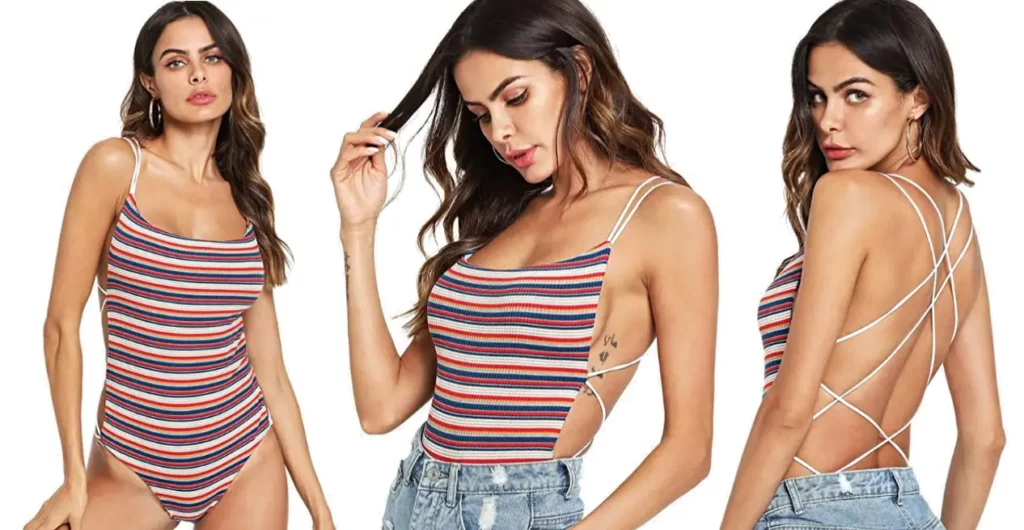 Women's Sheer Mesh Floral Lace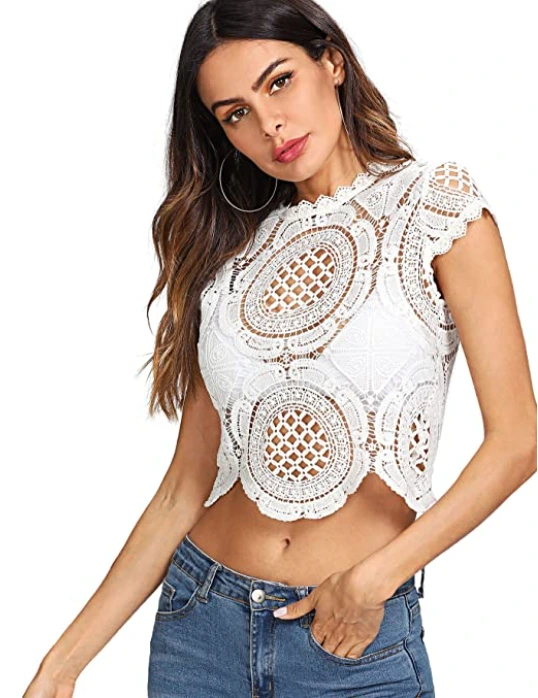 The classic and effective off the shoulders truly is a great top that mixes perfectly classy and wild.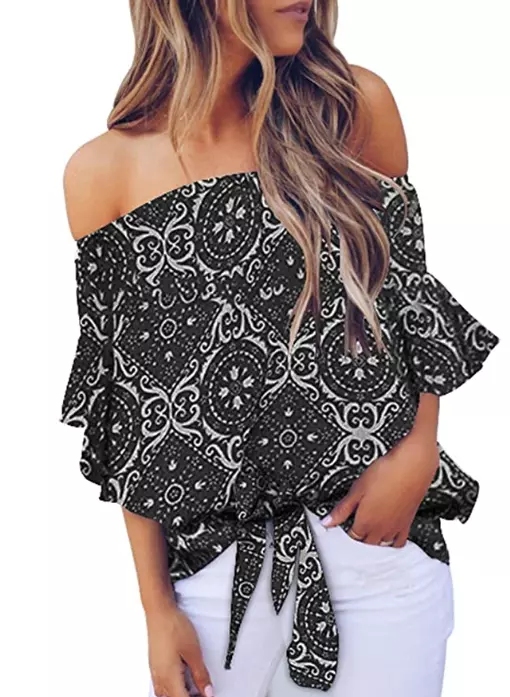 Boho off the Shoulders Plain top: One of the best "boho" casual looks we can recommend is this beautiful Striped Off the Shoulder Flare Sleeve Tie with more than 18 different looks you can pick.
Still sexy, still boho, and beautiful!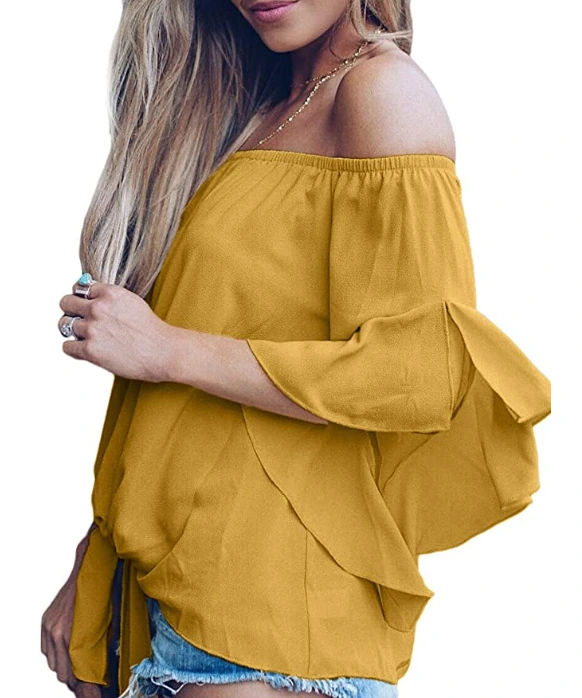 Boho Off The Shoulders Plain top:
Works great for festivals and Spring or Summer vacations.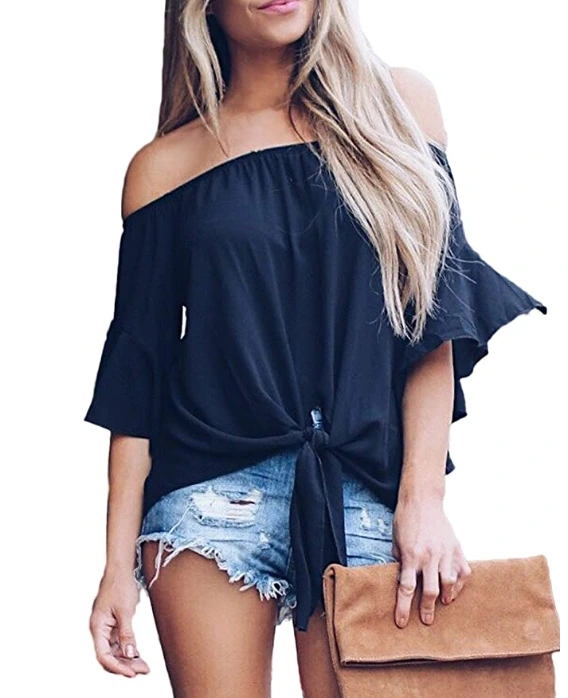 Boho Casual Top Loose Tank Top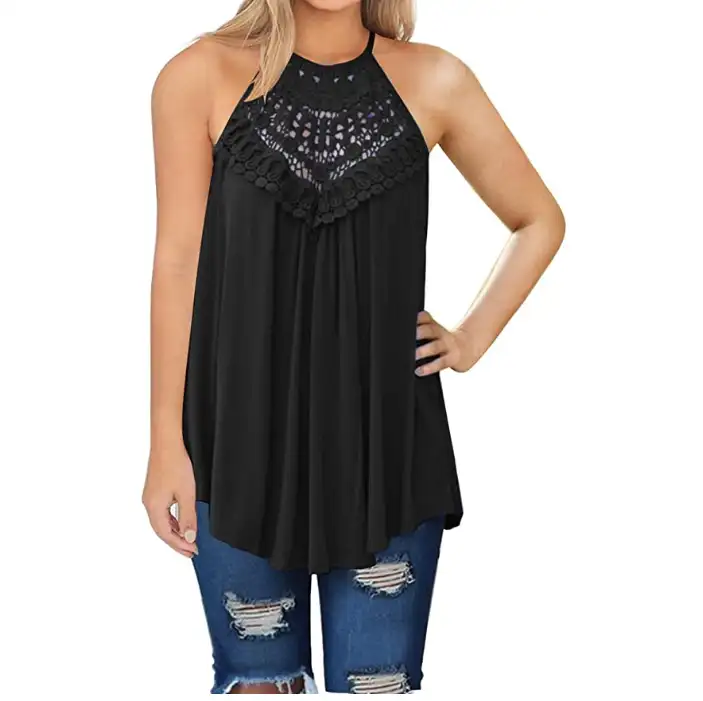 Boho Embroidered V Neck Crochet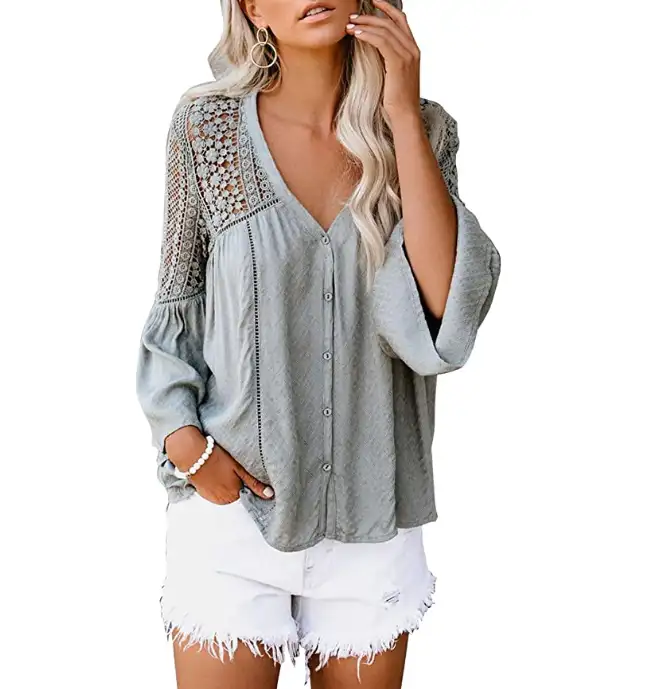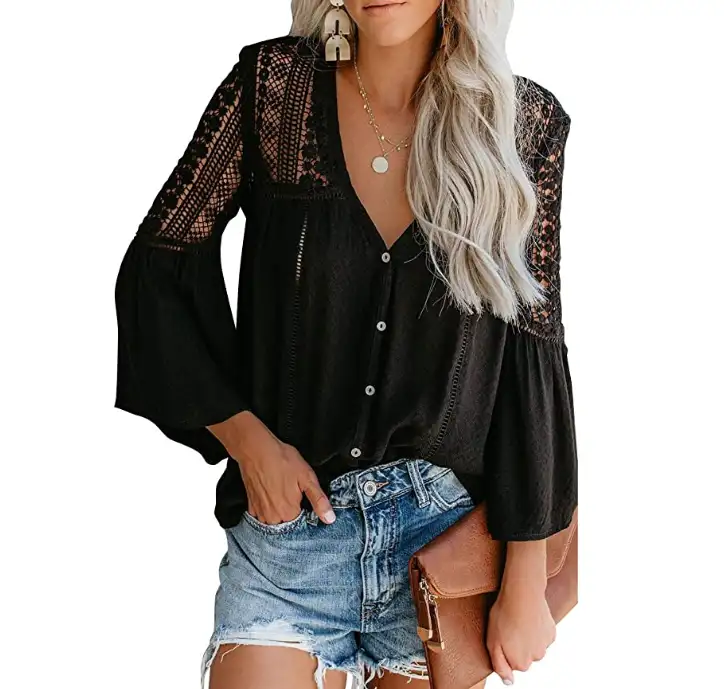 Boho Mesh Lace Top Shirt See Through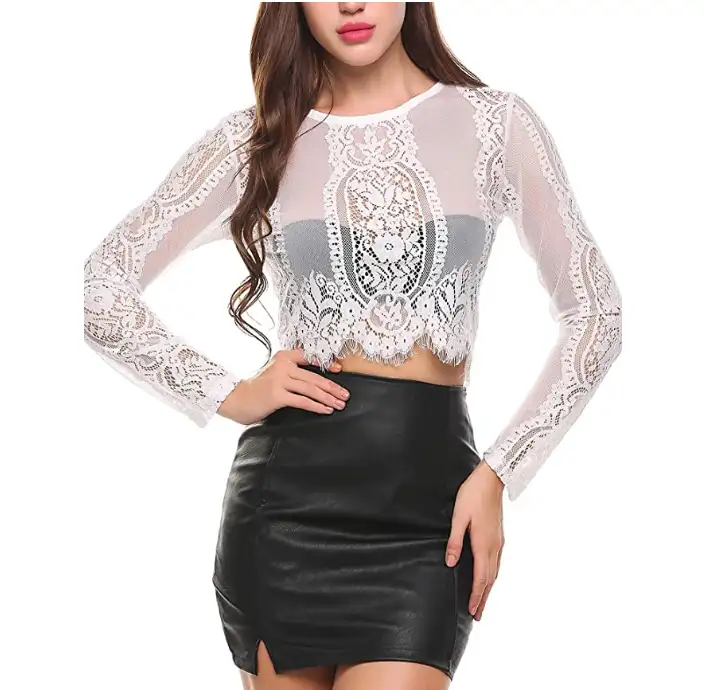 Vneck Strappy Tank Top Sleeveless Shirt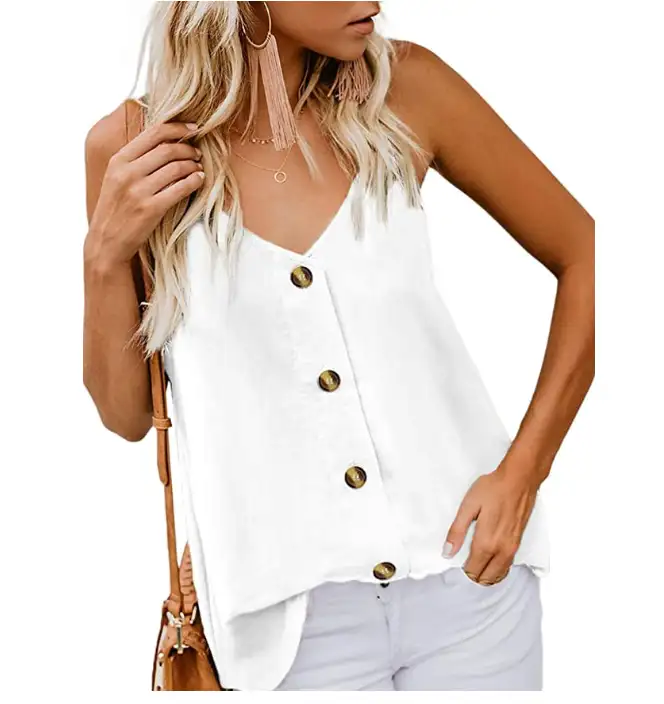 2) Boho clothing: Bottoms
If you are into pants but still want to be a sexy boho or if you want a warmer outfit for the night and stay in the vibe, we recommend these super-soft pants with gorgeous patterns below: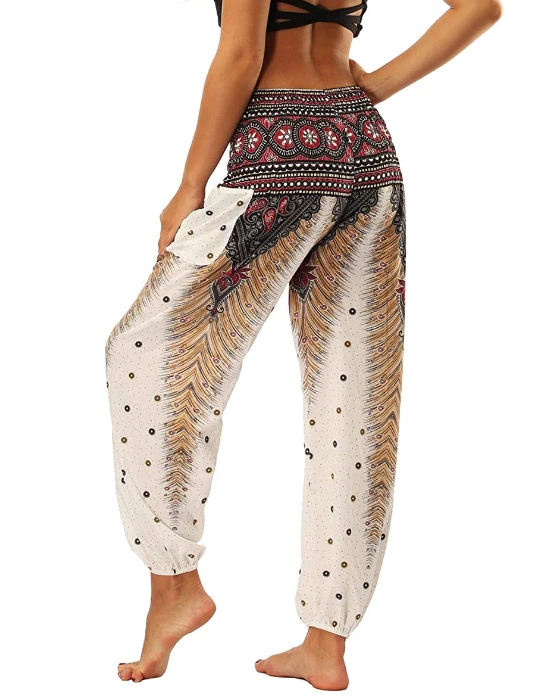 The fabric of those pants is light but not sheer and they will fit your style perfectly! Besides festivals, they can also be great outfits for traveling. We recommend!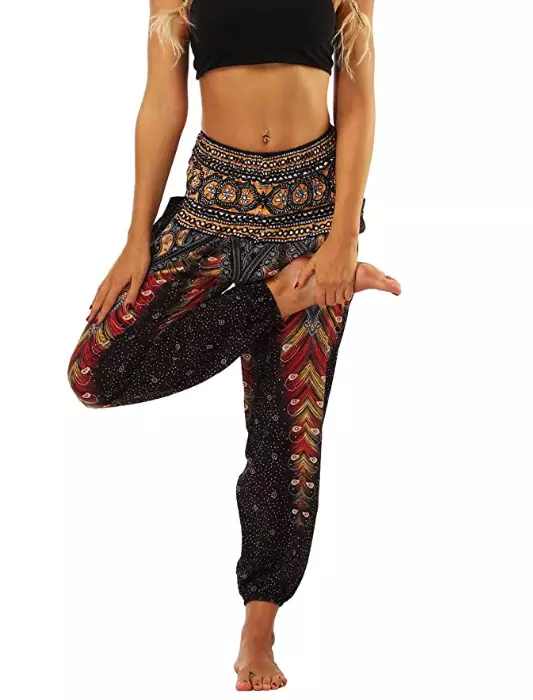 There are more than 10 different patterns to choose from and if that's your style, we are telling you this one is a keeper!
Boho Hippie Wide Leg Flared Bell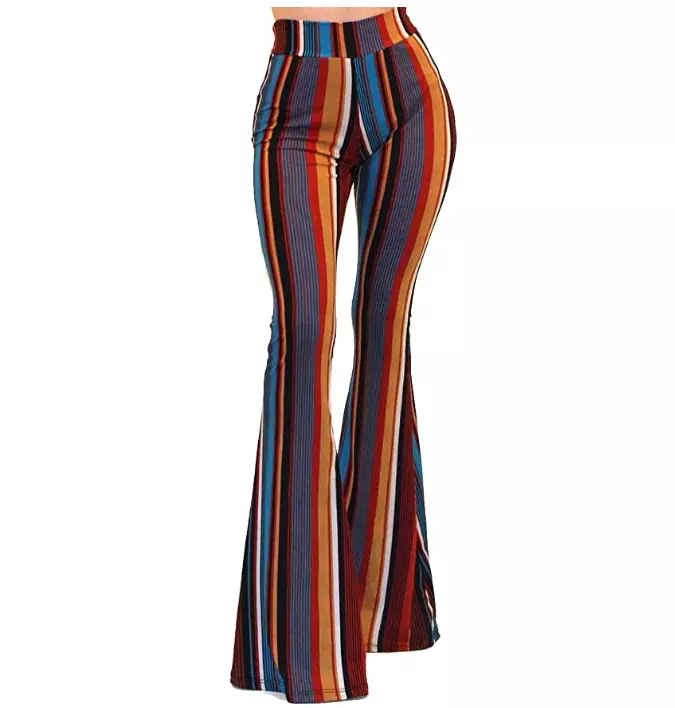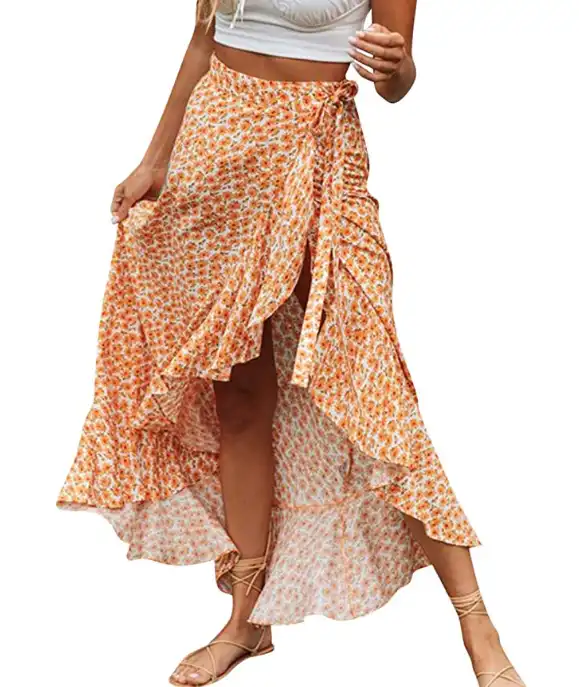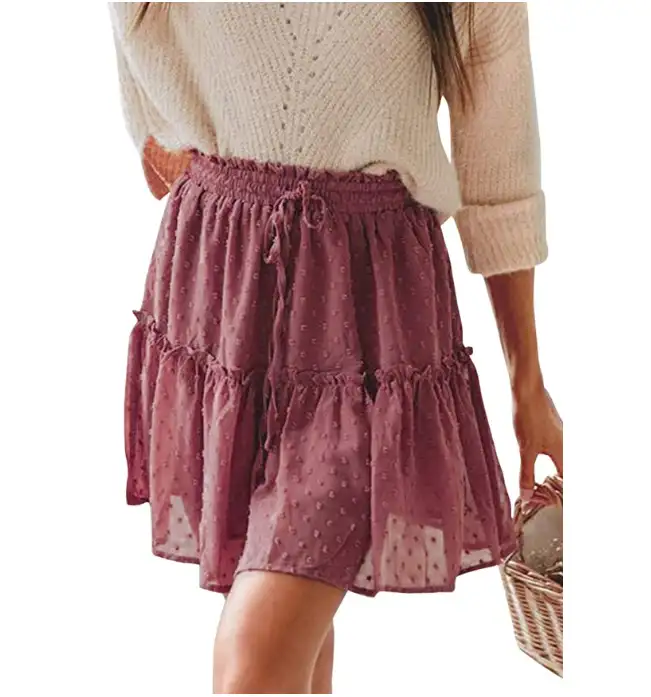 The Skirt Belly Dance (small fringes): These skirts come in a ton of different styles and colors check it out! All of the skirts you will find here will blow your mind as there are so many styles, it can inspire you on styles you did not think of.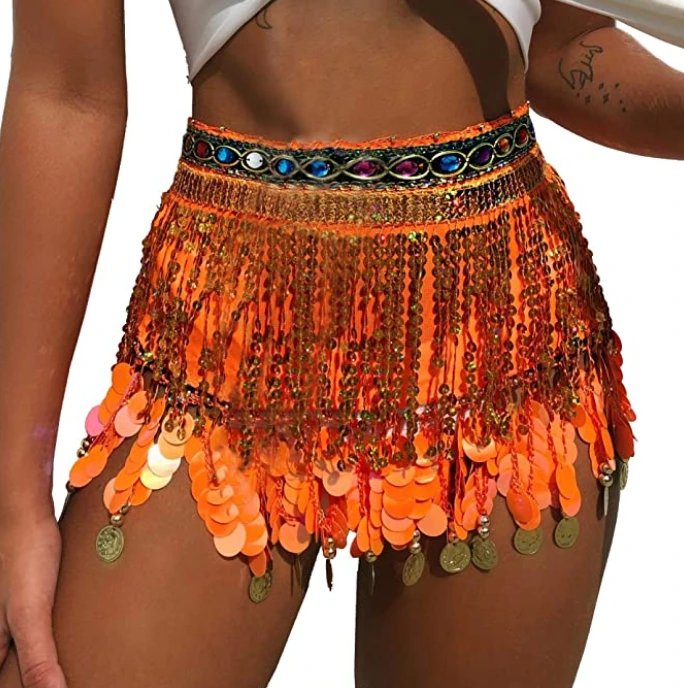 Casual Aline Denim Short Skirt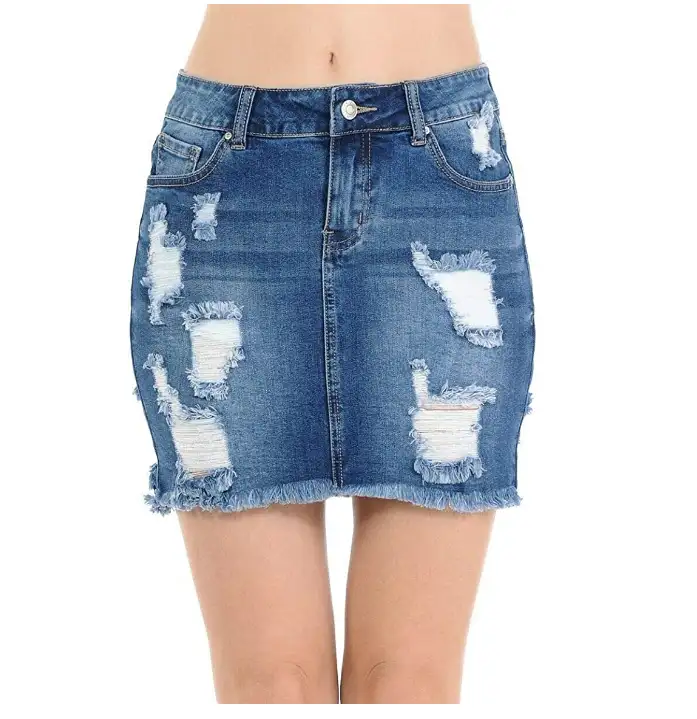 Faux Suede High Waist Mini Skirt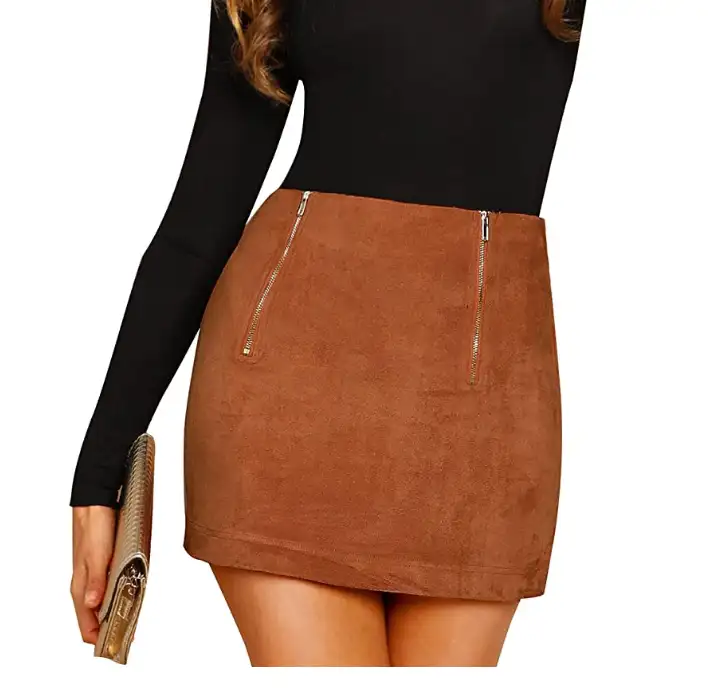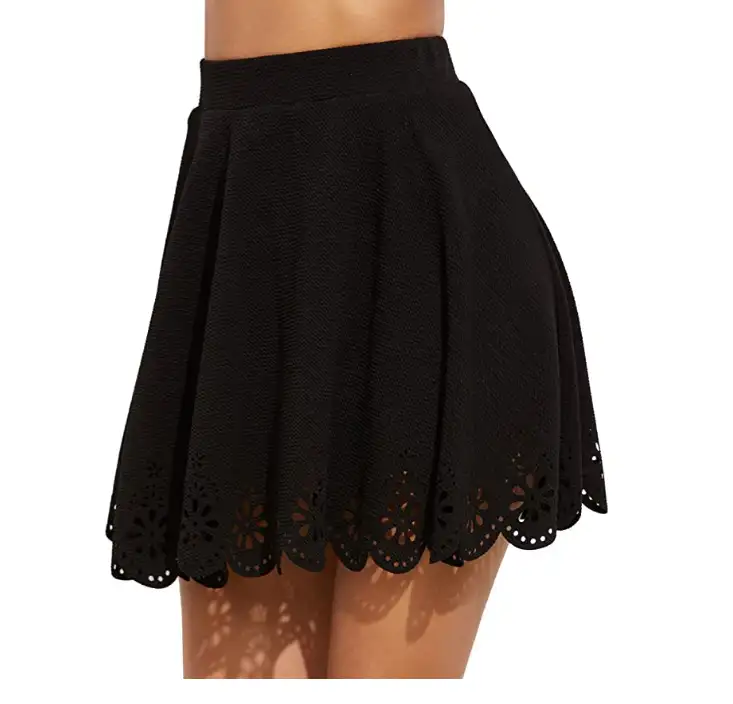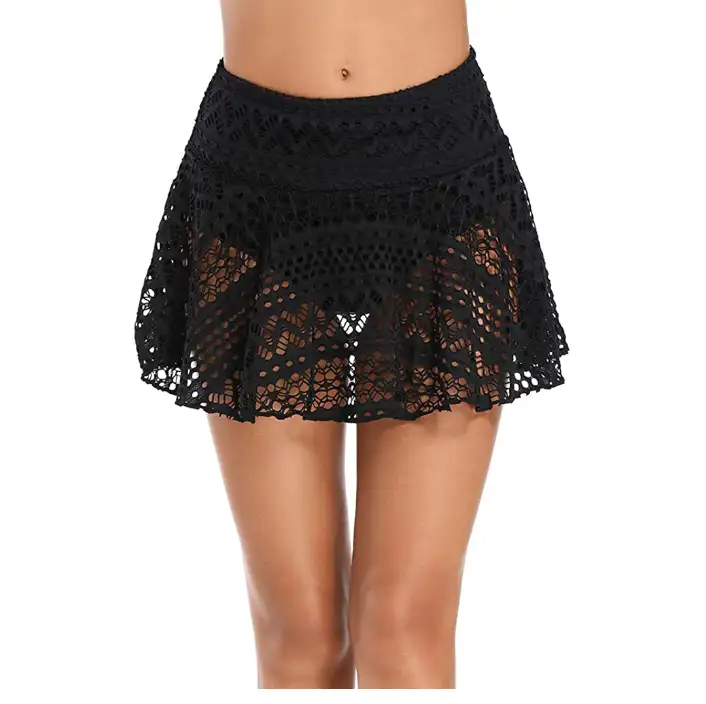 If you are into shorts, these shorts are a real winner, and work perfectly for curvy girls!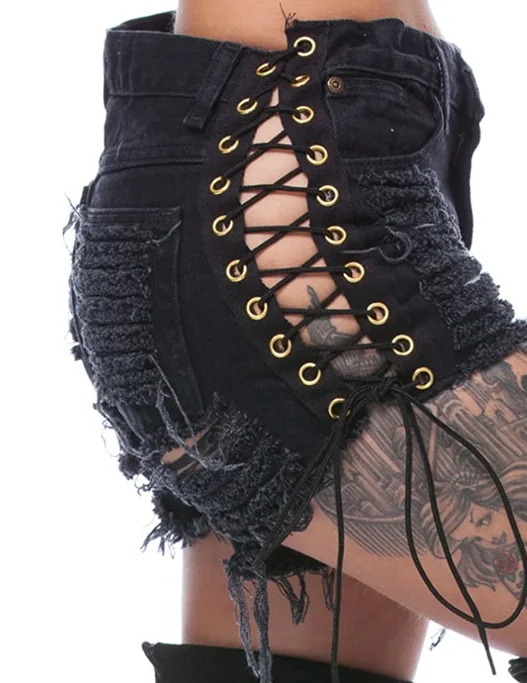 If the one above with the lace does not suit you there is another alternative below.
The Denim Low Waist Booty: top crops or bikinis works quite well with it, even a simple graphic tee would do the trick, as a cover-up you could add the Cover-Up Fringes that we feature down below.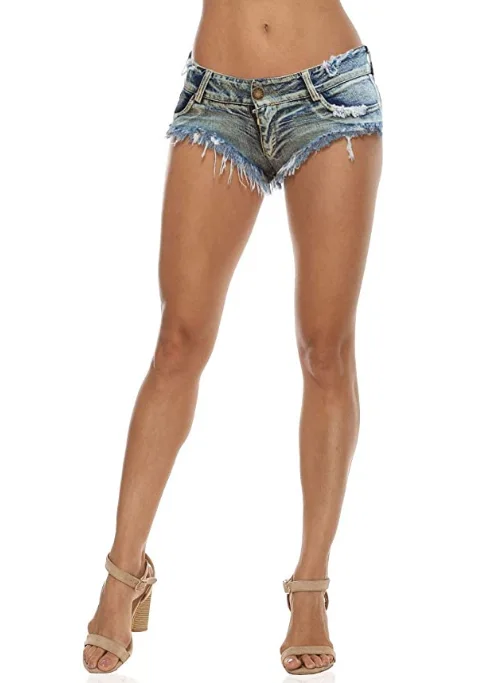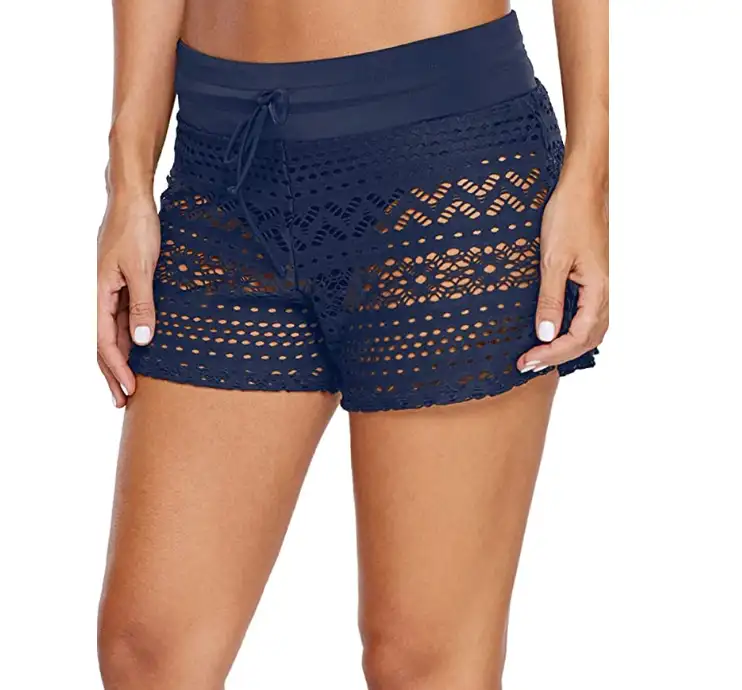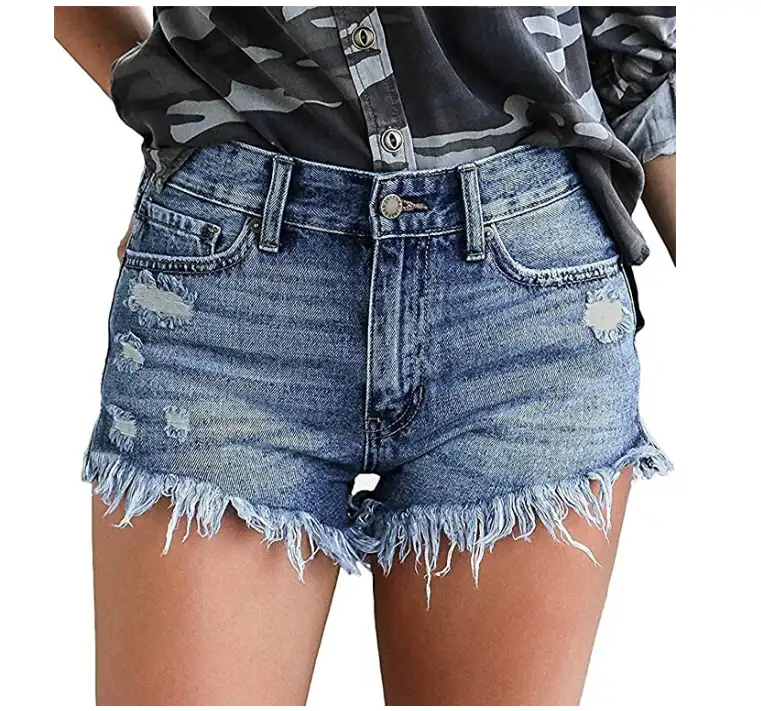 3) Boho clothing: Full
The Long sleeve Dress, if this is your style you can't go wrong with this one, and it's also a perfect match for curvy girls too, have a look.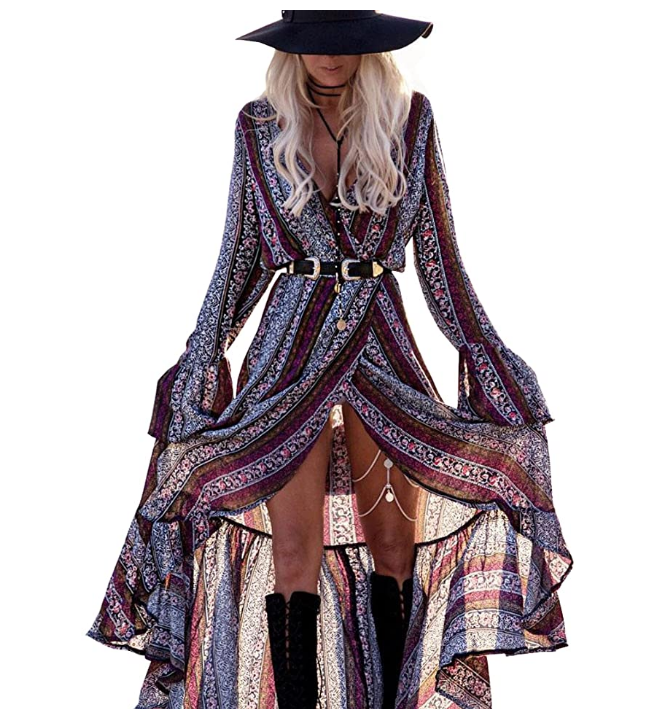 If you want to go with a classy and sexy look this is for you! This unique dress is comfortable and very elegant, you could opt to wear a camisole underneath. As it is very breathable, if your festival is in a really hot area this is a good move.
90s Spaghetti Straps: A great dress for festival and Spring/Summer seasons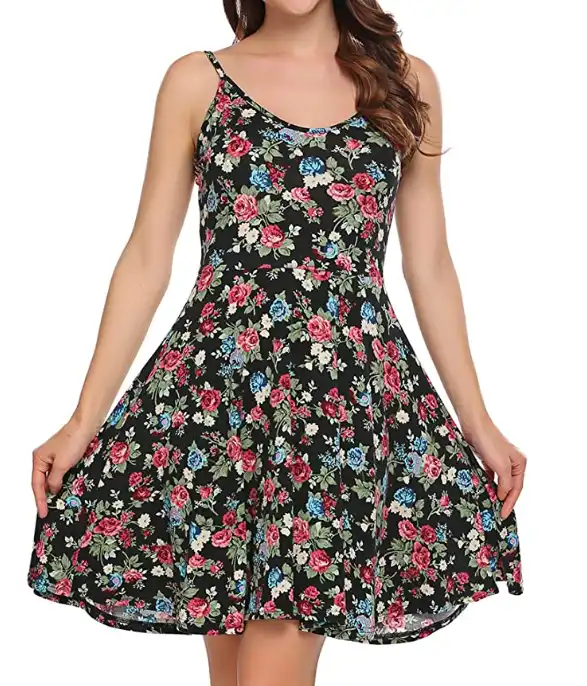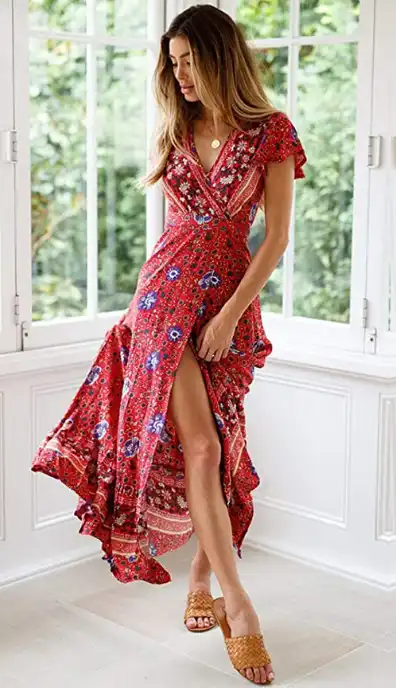 Casual embroidery dress: the beautiful, elegant dress.Our note: This dress is a see-through we recommend dark or white underwear. Not ideal for big breasts. But besides that, you will get a ton of compliments wearing it.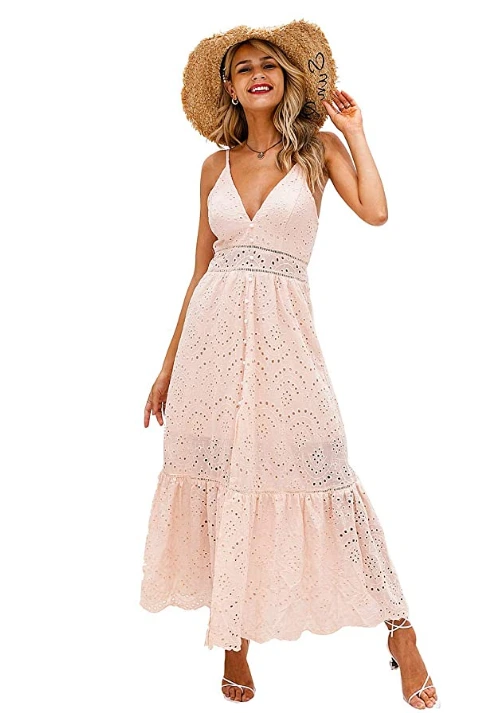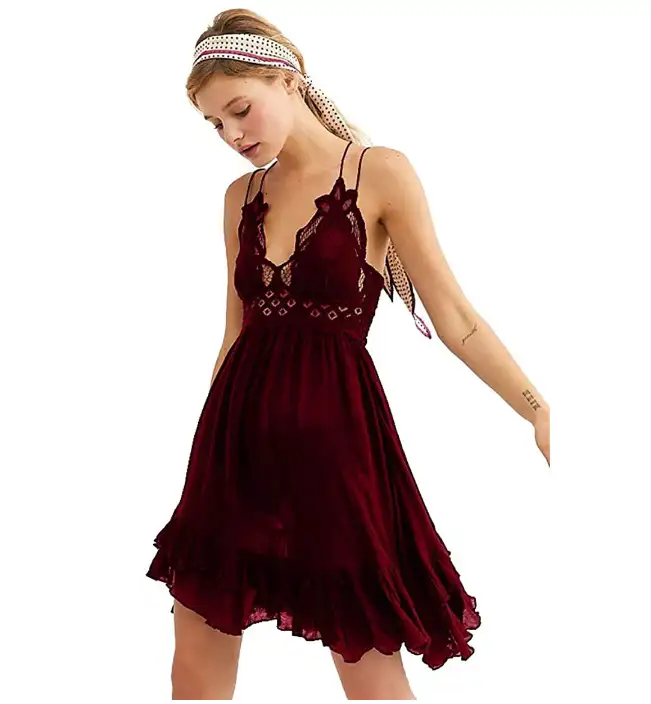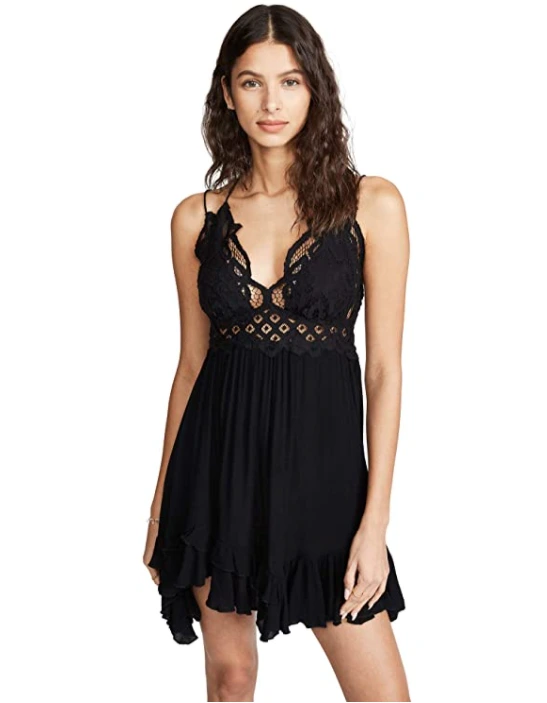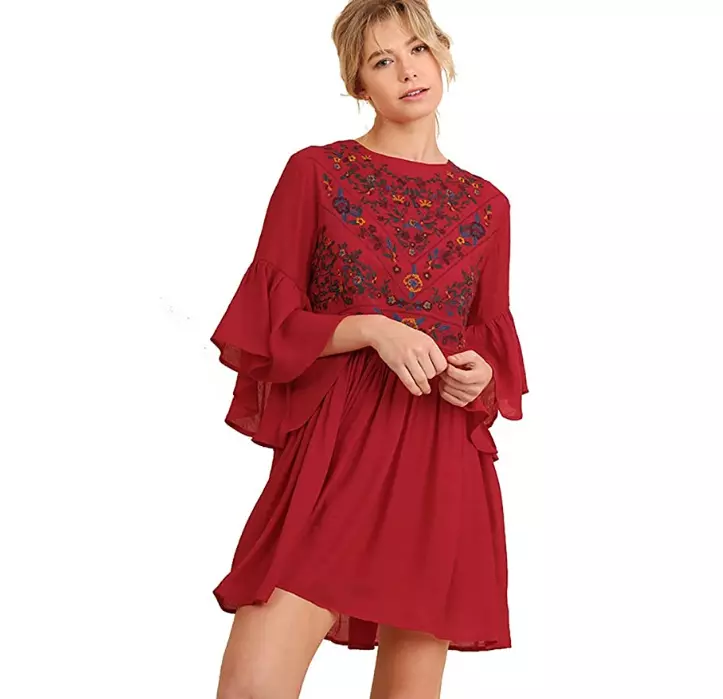 Women's Summer V Neck Wrap Vintage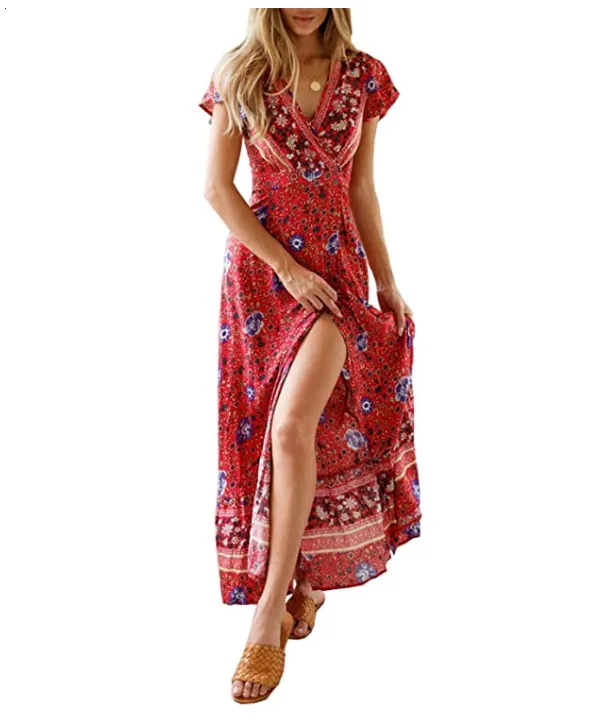 Women Summer Long Sleeve Cardigan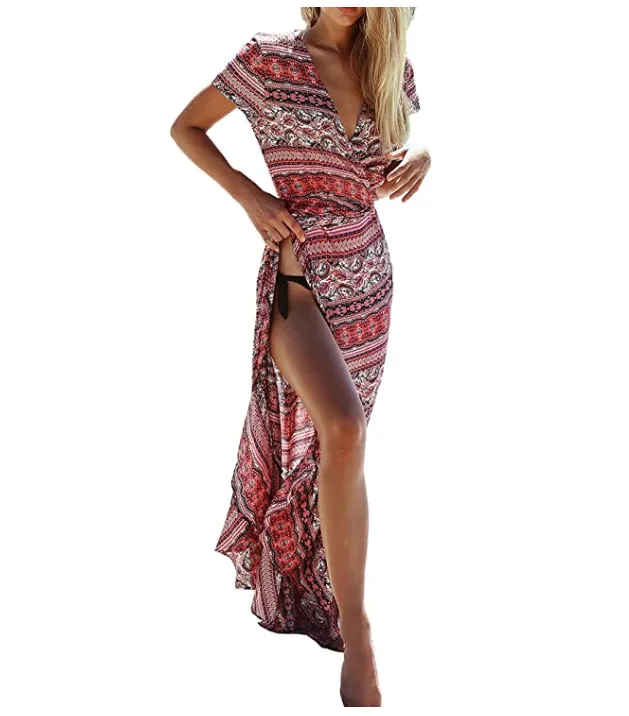 Women Summer Long Sleeve Cardigan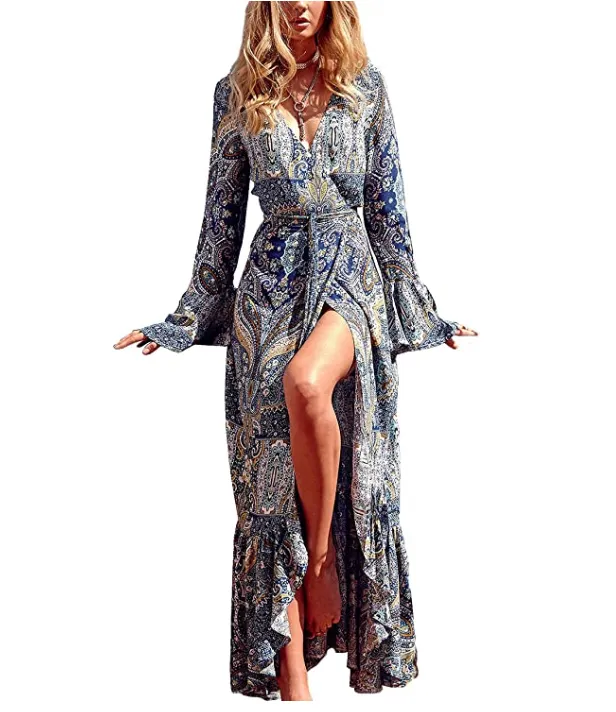 Women Summer Long Sleeve Cardigan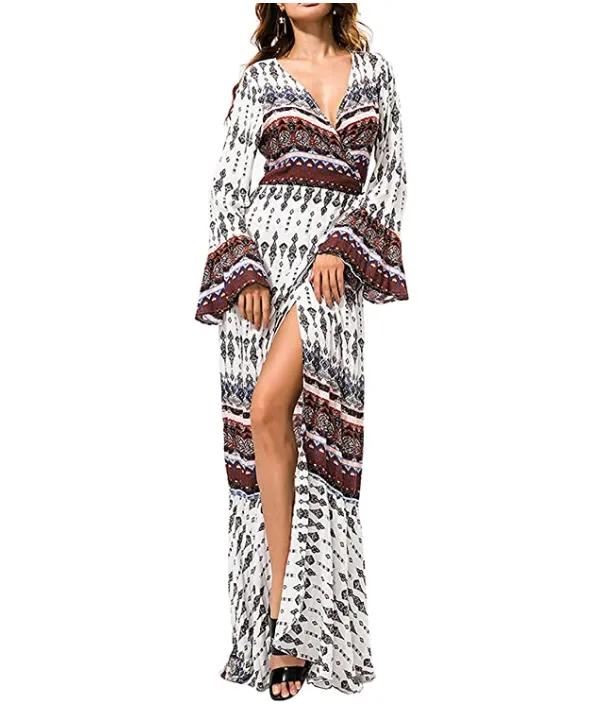 Women Summer Long Sleeve Cardigan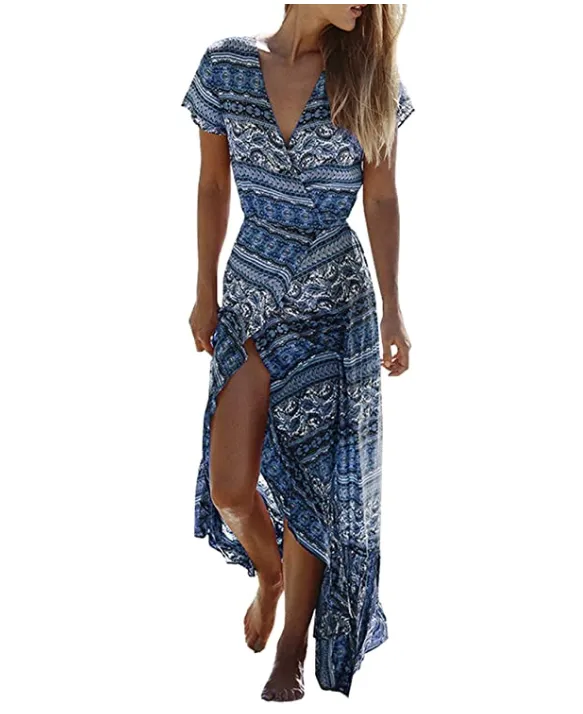 Tie Dye Tunic Tops Tee Shirt Dress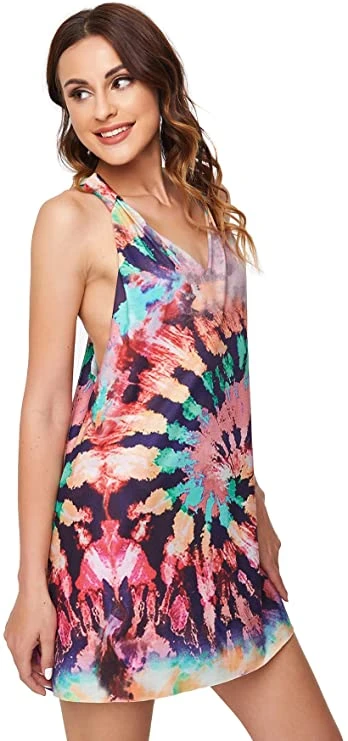 V Neck Sexy Mini Short Dresses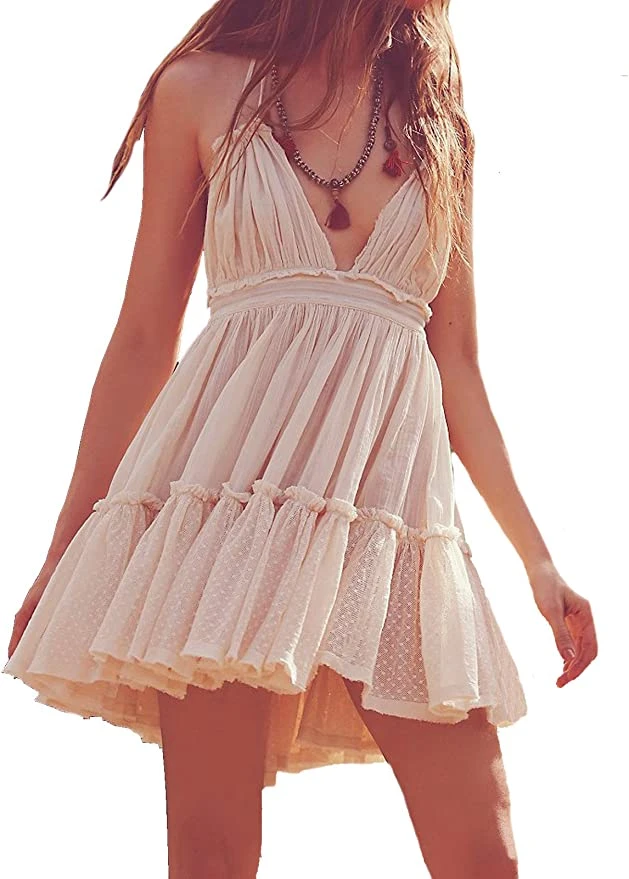 Multi-Print Trumpet Sleeve Dress
4) Boho clothing: On Top Of
a) Crochet Cover Up:
One of the best hack for breathable and sexy outfits for your Spring and Summer Festivals
The Famous Crochet Dress Cover Up: You actually can't go wrong with this dress, mostly used as a cover-up, it gives a stunning look to anyone who wears it!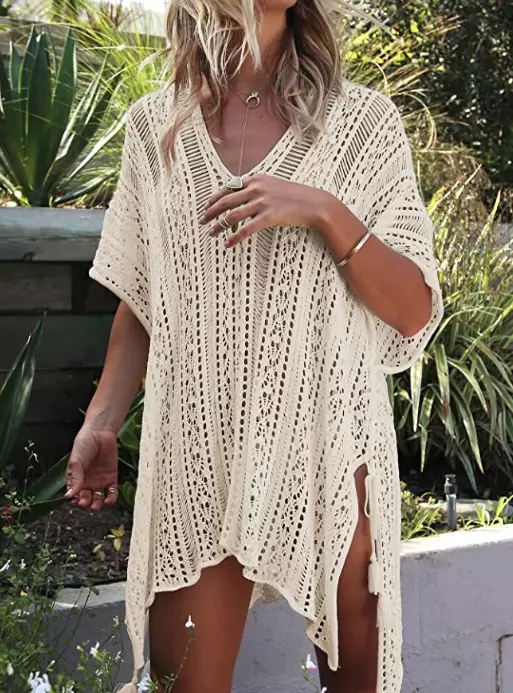 Cover Up Dress Crochet N°2: Another great alternative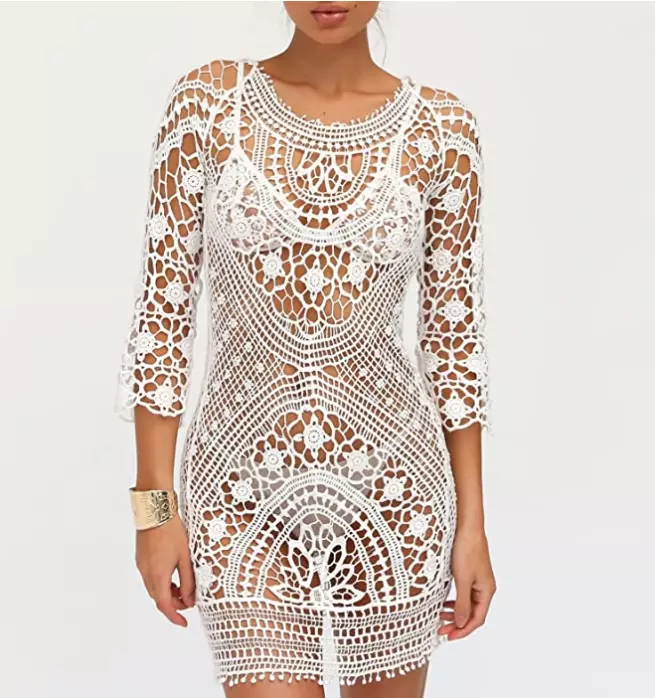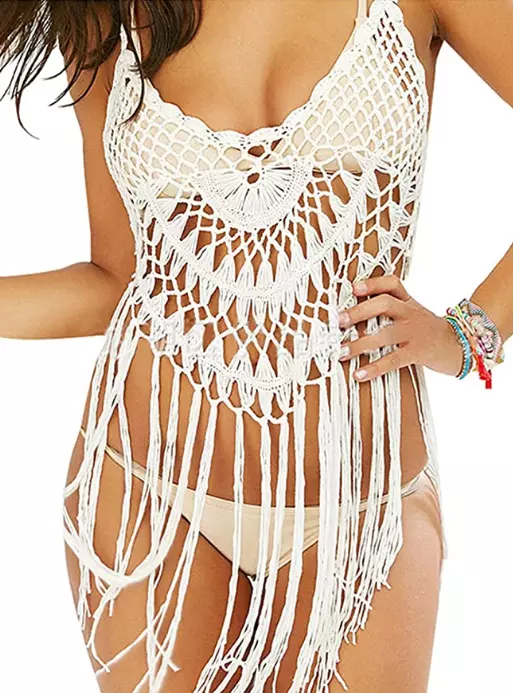 It is not much but works magic with pants and dresses, it will make any outfit POP! A great addition to complement your boho outfit. (Obviously, it can easily be reused, for any Spring or Summer trips not to mention the beach.)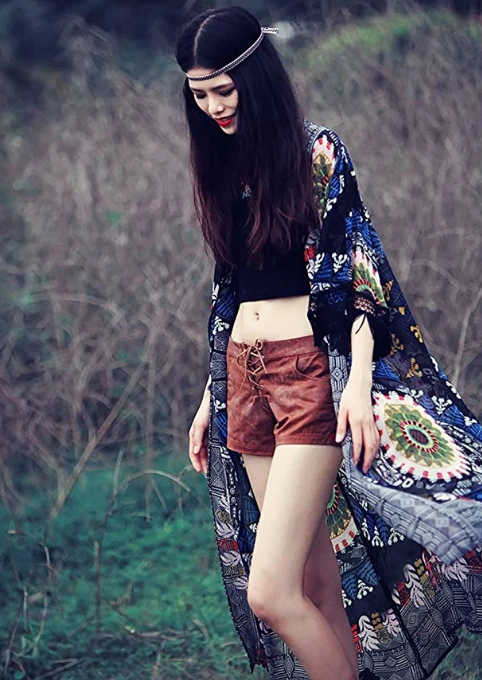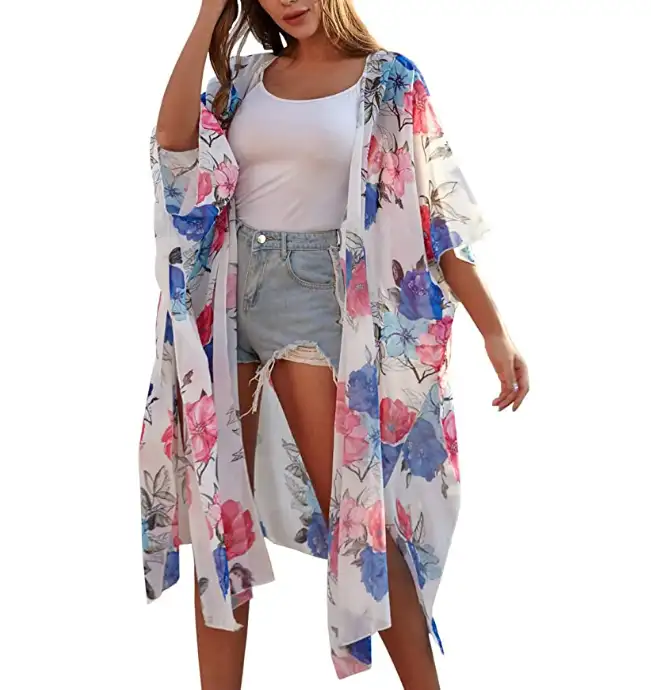 Summer Chiffon Floral Kimono Cardigan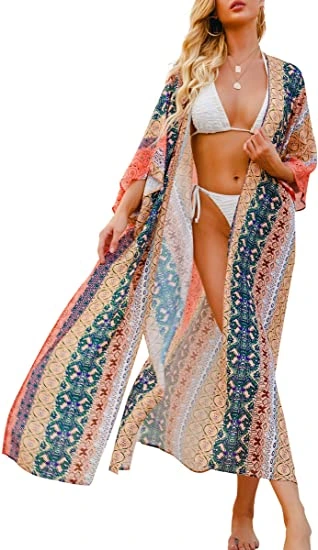 c) The Fringes:
Fringes are big in the bohemian realm, as they have always represented the wild and freedom of clothing, the selection below also makes a killing, have a look.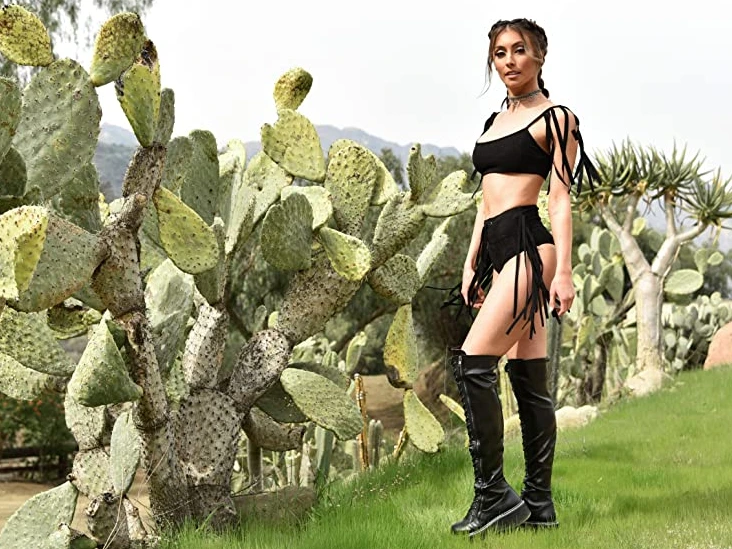 Many styles are available, you also have the longer version below as well.
Pro-tip: if the long fringes drag on the floor and you don't want to cut them because you might resell them, consider wearing heels :).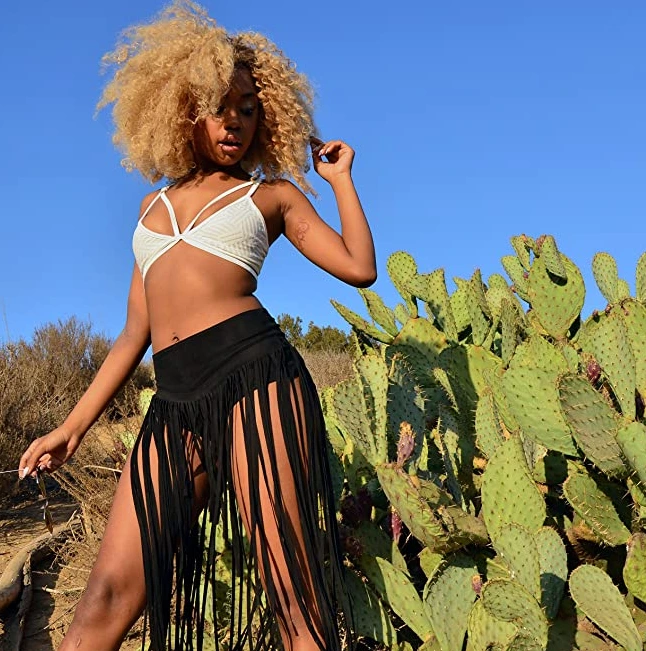 Women's High Waisted Fringe Shorts: Fringes have always been a nice touch. These Rosewood Fringe Booty Shorts are famous for fitting great and are sexy.
Another aspect we would like to point out is that fringes are also fun to wear. It covers the bottom but still has a peekaboo sexy look ;)!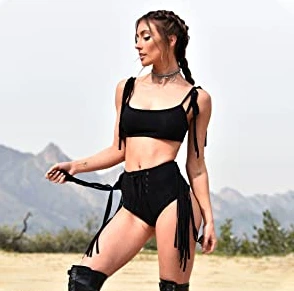 If you are a curvy girl do not hesitate it will work for you and they will stay comfy, which is a must when you go to festivals, sure the outfit is important but comfort comes first.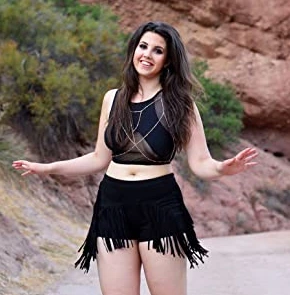 Cover Up Fringes: This piece of clothing works well with a white camisole and standard shorts. If you prefer you can go bikini like the model below, it does show just about enough and hide just about enough, and you can think of this also as a cover-up more than actual clothing.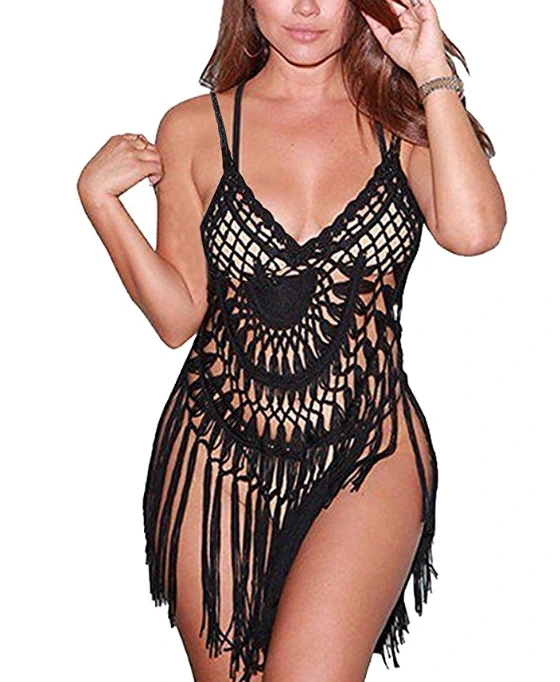 Sheer Mesh Side Slide: Out of a simple outfit this one will make it festival-ready!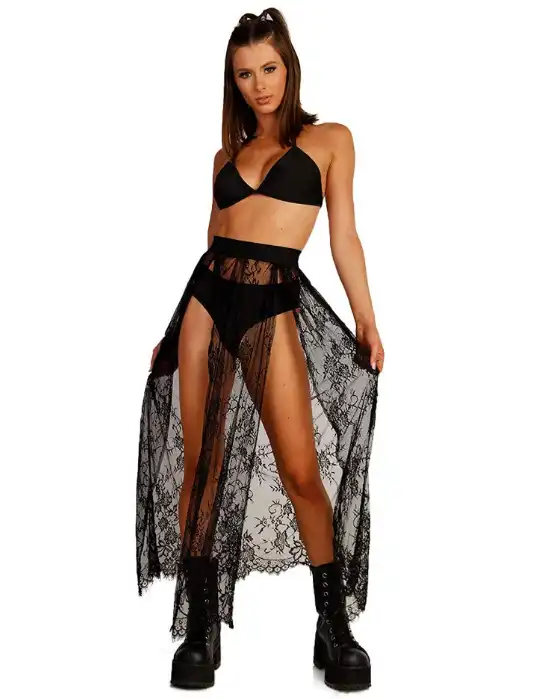 5) Accessories:
Things that can transform regular clothing into a festival one 🙂
Glasses: Find multiple styles and colors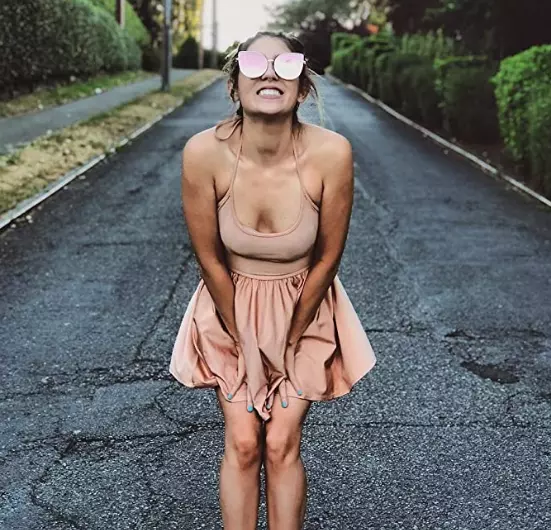 Boho Style Hat: Some people are into hats others don't but if you were looking for it, the one below is great.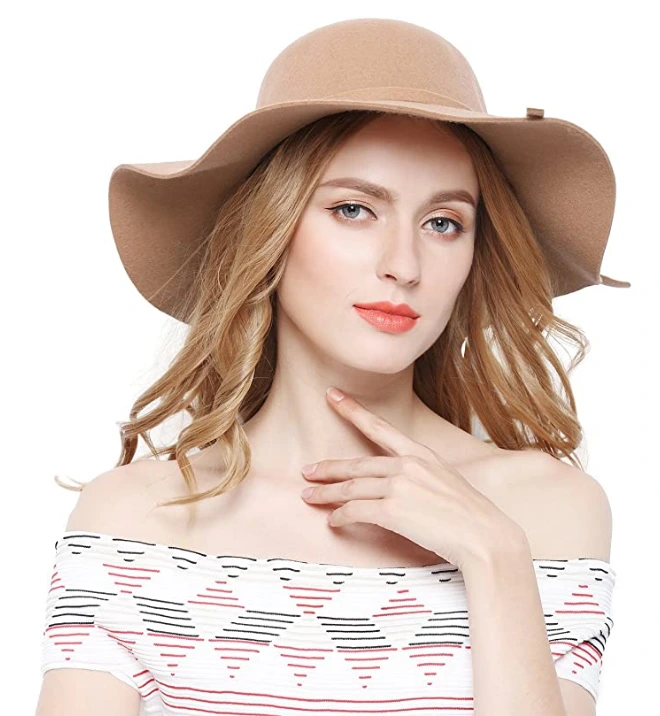 Flowers: Crowns and Wrist Band: You will find a bunch of colors and styles, this will be THE plus on festivals, it also fits perfectly for weddings or ceremonies!Disclaimer: Among bohos and festival goers there are huge debates on whether crown flowers are still a thing or not, we say that you can do whatever you want as you decide how you want to look and let people talk!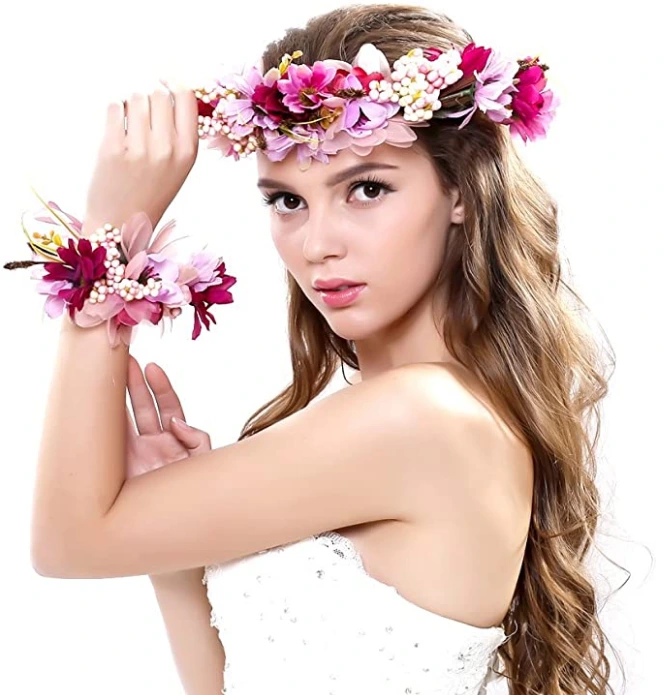 6) Jewelry
Jewelry is so big it could be a full post on its own, but for the sake of providing you with a complete view, we selected the ones that we consider the best for boho outfits. Cool Note: all the Jewelry below are under $20
Bohemian Earring 3 Fringes: These earrings have won a solid place in Bohemian style, people do recognize them from a distance, they come in many colors. Pick and choose accordingly so it fits your amazing look!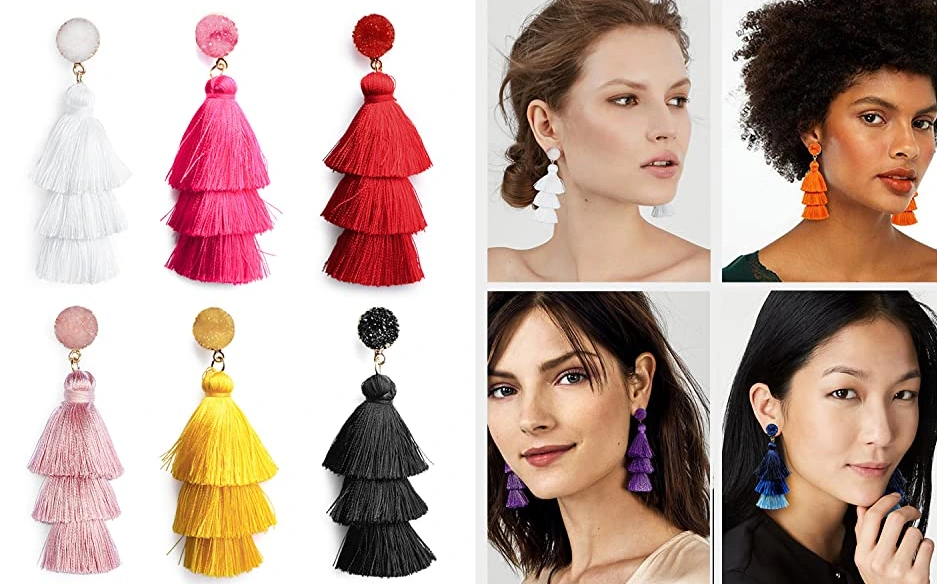 Bohemian Wrist Bangle: This multi-layer bracelet is one of the main accessories of the Bohemian.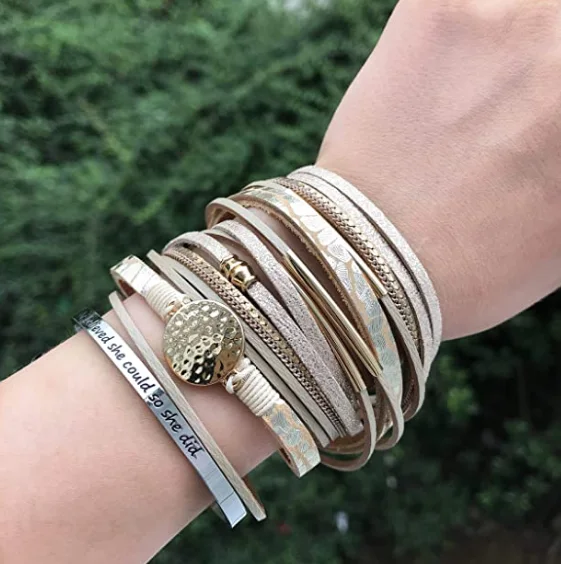 Bohemian Tribe Leather Necklace: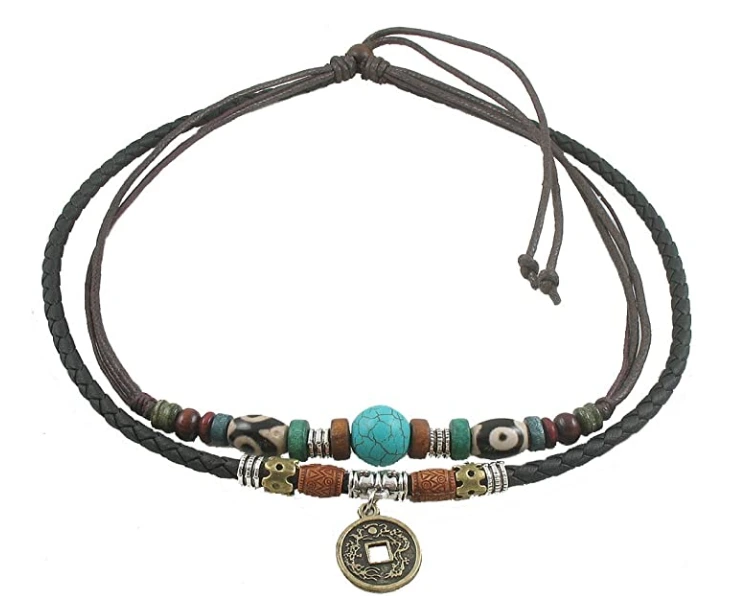 Unisex Leather Boho Bracelets: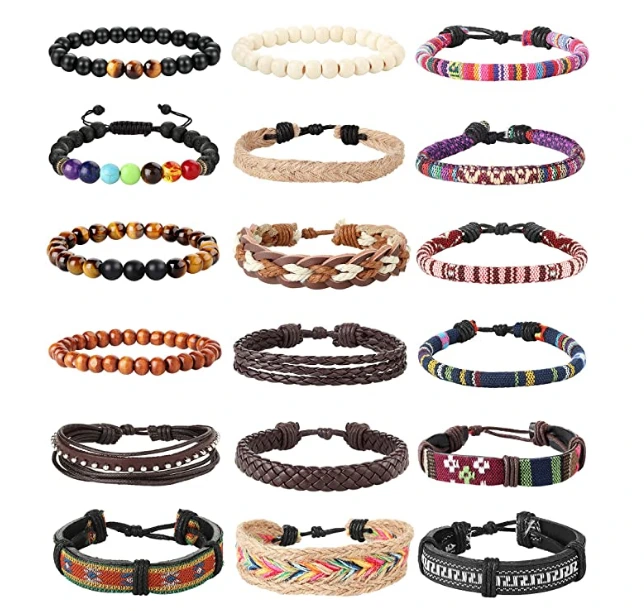 Bohemian Bracelets Wristband Stone: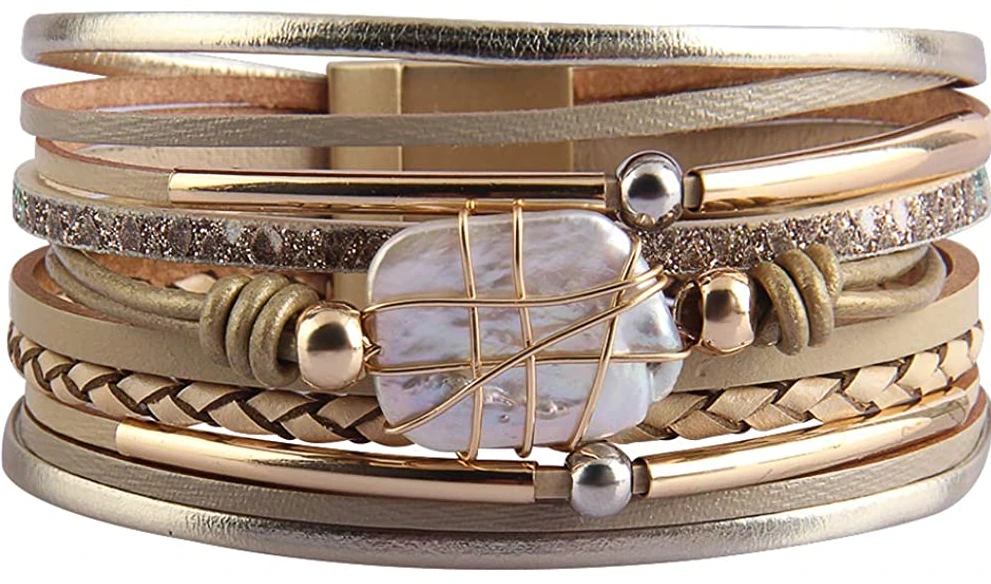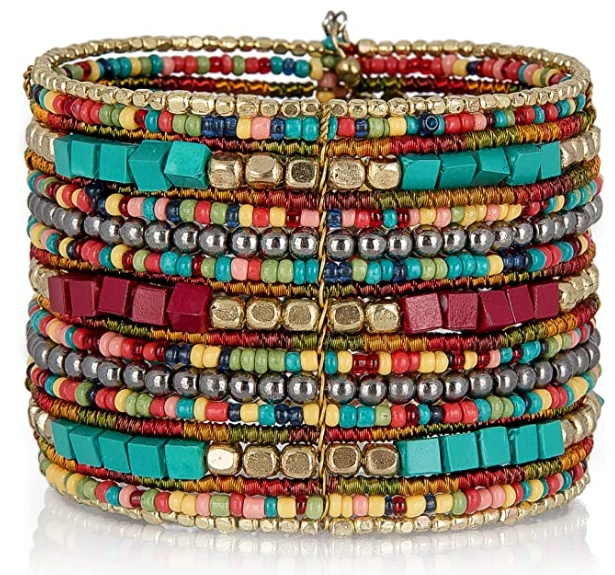 Bohemian Multilayer Chain Necklace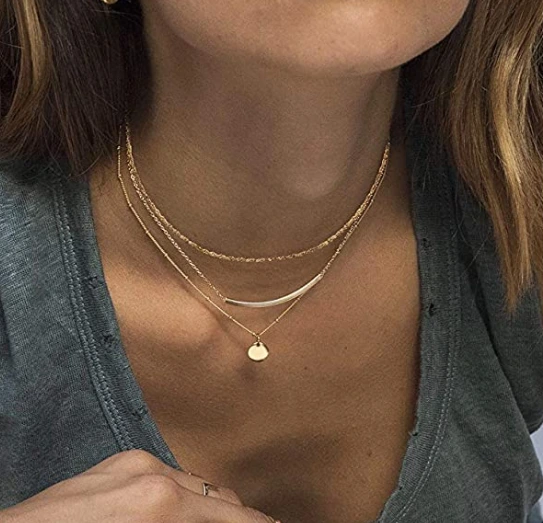 The possibilities and the combination for an outfit are unlimited, nevertheless, we hope that this review filled with great products will help and give you what you were looking for.
We will keep on refreshing this listing as new great products pop up from time to time, and the idea is really to provide the best selections, so you can be confident regarding what to buy for your next event.
We hope that what we listed did help you or inspired you, saving you some time in your research.
Enjoy your festival!
Take care!