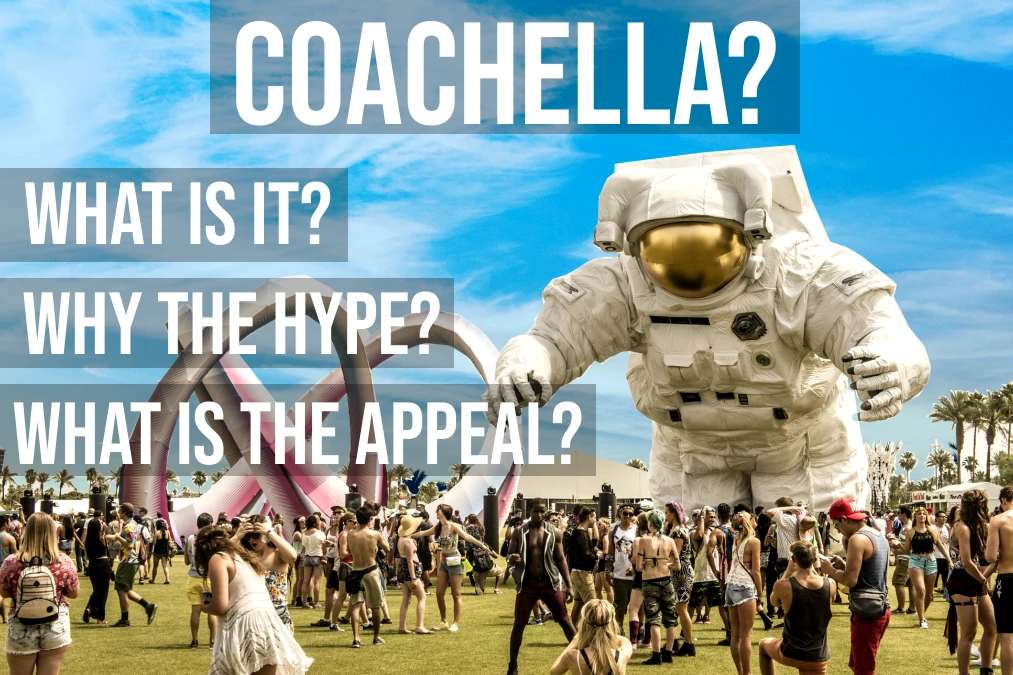 In this article, we will be answering the 5 most asked questions of one of the biggest summer festivals in the world.
Here are the questions we will be answering :
What is Coachella?
Coachella is a music festival that started in the late 90s, it came to light as a protest against Ticketmaster's price gouging, which had almost total control and monopoly on ticket sales.From there, the promotion company Goldenvoice booked a venue in Indio located in the Coachella Valley and their first concert was a big success. This move showed that the venue was viable and they did not need big stadiums to create big events.
What do people do at Coachella?
Coachella is now one of the biggest music festivals in the world and is held on two weekends.It's a music festival, so obviously, the main activity at Coachella is to enjoy the different performers there. That being said, as Coachella takes place during multiple days, people literally live there. You have areas to hang out next to beautiful architecture, you can find food all over the place, and of course, you can also camp and sleep there.
What is it like to attend a Coachella music festival?
Well, this is a funny question as we could answer you in two different ways and we think that the best way to do so is to give you the pros and cons of the Coachella experience.
Let's start with the pros:
The vibe: attending Coachella music festival is quite magical really, everything there has been well-thought-out and you almost feel that you have entered a special magnetic, beautiful, hypnotic land.
The venue: it is absolutely gorgeous, located in the middle of the Colorado desert, and gathers about 250 000 people (two weekends total).
The people: Like most music festivals you see almost only happy faces
The organization: Another advantage is the way the stages are set up, it allows you to easily move from one artist to another considering the number of people there is.
The sound: Quite frankly Coachella has one of the best sound out of all music festivals
The exclusivity: The artists you will see are usually very famous or they are about to be, and you will hear new songs that have never been played before. (Goldenvoice is really good at introducing new talents that will soon become big hits)
The cleanliness: One of the big pluses at Coachella is that it is certainly one of the cleanest ones there is, they hire about 600 staff to collect litter throughout the event.
The artists and the show: every year Coachella music festival brings great artists and because they know they have been invited to one of the best and biggest festivals in the world, they all bring their A-game, therefore YOU WILL NOT BE DISAPPOINTED BY THE SHOW!
Now the cons (please take into consideration that almost all those cons are simply linked and common to every music festival, it is not because of Coachella organization or the city of Indio)
The budget:
Traveling: Depending on where you live, getting there will drastically increase the budget.
Will you camp or go to a hotel: Know that if you decide not to camp during Coachella, all hotels in the area raise their price. Camp can be a good option but that is directly liked to the comfort you would like to be in.
Ticket price: The first tickets are at least $450 and can cost higher than $1000 for VIP etc… Yes, it is a pricey ticket but "hey it's Coachella we're talking about" great venue, great stages, great performers, clean festival, great sound systems, great organization. Note: If you take into account the lineup of the event, after the first day you can consider that the cost of your wristband is pretty much paid, that's how big Coachella is.
Food and drinks are also a budget to consider as the food you will find, is not more expensive than other music festivals, but still, $8 for a 12oz beer…
It's crowded: Well you can't have both great experiences and no people. If it's good, people want to go there. Again this is common to other music festivals but you will have to endure the long lines for security, food, toilet, getting in and out of the event.
It's big: The event gathers many artists and about 250 000 people so the venue is really big. So you will walk, and walk some more, to go from your car to security, to get food, toilet, from one stage to another and back to your tent/car. It can be tiring to do all that walking especially when you give all you got for each performance and artist you like… but when it comes to big festivals that's how it is…
What is the appeal and why is there such a hype regarding Coachella?
The Line up: Goldenvoice has a particular skill to invite great artists and amazing unknown names.
The surprises: Goldenvoice works hard to provide the best experience to the public, it's a great long show and they always go the extra mile with great surprises along the way.
Song premiere: Coachella is at the beginning of the festival season, therefore being at Coachella gives you the advantage to hear brand new songs that will soon become the summer hits before everyone else.
The vibe and the fashion: Arriving at the event, you will instantaneously feel the great vibe that this festival has. You feel that everyone is excited and happy to be there which leads to festival fashion and even more precisely Coachella fashion which usually brings a lot of bright colors into the mix. By the way, click here if you're looking for festival outfits we have a dedicated article for the Coachella fashion and Coachella outfits, with great festival wear ideas like festival dresses, festival cropped tops, denim jackets, denim shorts, mini skirts, overall festival sets, and festival accessories.
The venue/staff/organization/cleanliness: As we already mentioned the venue is really beautiful as it is in the middle of the Coachella Valley in Indio California. The staff and the organization are extraordinary at making sure you have the best experience possible. And Coachella is one of the cleanest music festivals there is.
Great Stage for Art: People usually go there for the music, but you will also be enjoying other types of arts like architecture, sculpture, painting that will be displayed all around the venue.
Remember, Coachella is a unique experience that needs to be lived, actually we even think that it should be on your life's bucket list. We recommend attending it at least once in your life, and this will be an experience that no one could take away from you.
We hope that this article did help you or inspired you, saving you some time in your research.
Enjoy your next festival or your next event!
Take care!