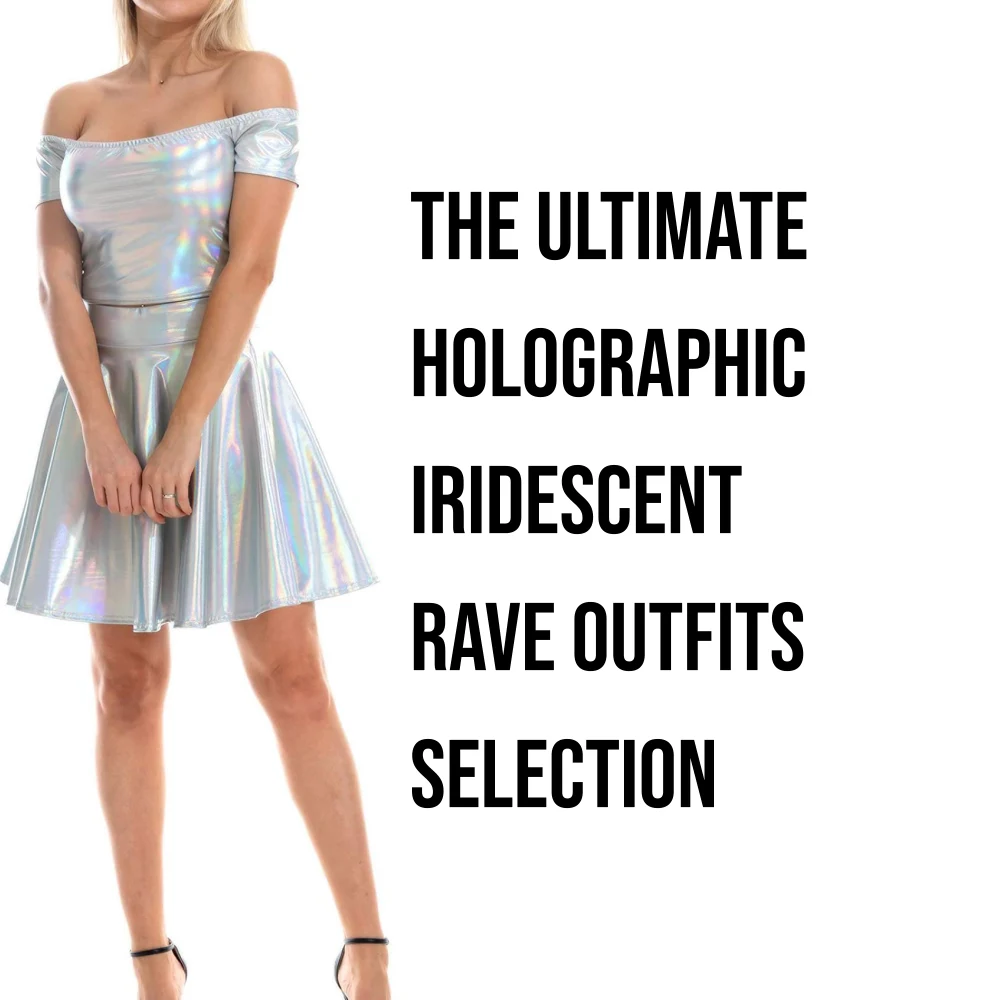 This is a trend that keeps coming back both in music festival outfits and rave outfits.
In this article, we cover head-to-toe the best selection and ideas for Holographic and Iridescent outfits for your next rave or festival.
Find below the breakdown:
All items that are listed, are the best products on Amazon as they are all at a minimum of 4 stars out of 5 and above. We want you to get the best out of this post by saving you some time in your outfit research and finding great items for cheap.
Holo clothing is a great style both for rave and festival outfits, that will allow you to shine during the day and night!
1. Holographic and Iridescent Set
The selection below is our best pick for holographic and iridescent sets, and you will find both bodysuits and 2 piece sets. You will find some outfits that are way skimpier than others but it is so each person can find what styles suit them best.
Regardless of what you choose all of them are so cute people will never be able to take their eyes off you!
Women Holographic 2 Pieces Outfits Set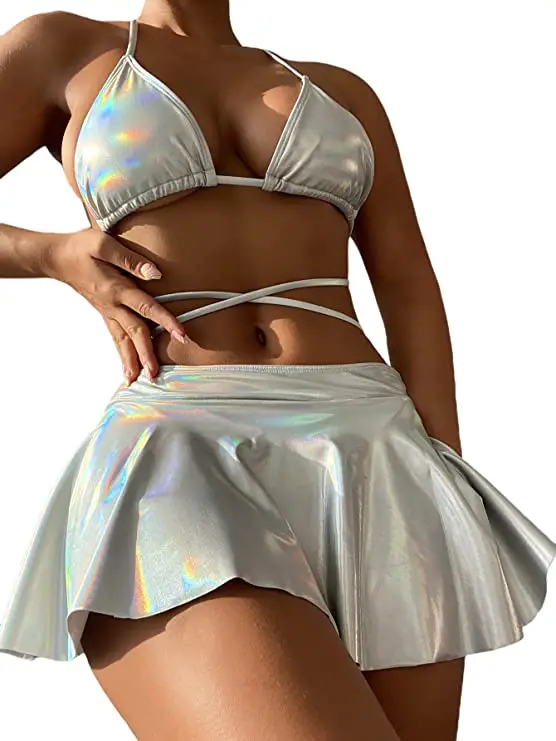 2 Piece Outfits Set Bra Top Mini Skirt
Hooded Crop Top Holo Sweatpant
Off Shoulder Crop Top Mini Dress
Body Chain Gold Bra Skirts Set
Bra Crop Tops with Mini Bodycon Skirt
Strapless Bandeau Tube Bra Top Skirt
Neon Shiny Hologram Strappy Bikini 
Bikini Set Shiny Metallic 2 Piece 
2. Holographic and Iridescent Dress
Regarding this dress section, some outfits you saw above could be categorized as dresses but the focus here will be specifically on the one-piece outfits.
Mini Dress Ruffle Short Dresses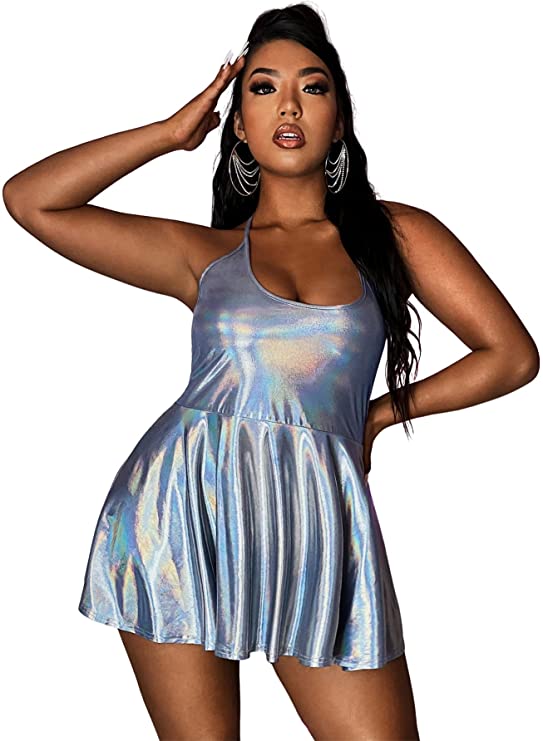 Holo High Waisted Skater Dress Silver
Sleeveless Holographic Skater Dress
Rave Clothes Holographic Wrap Circle
3. Holographic and Iridescent Tops
Here is the tops section that goes from only bras to other ones that could be considered accessories showing almost everything (we recommend here nipple pasties), to complete camisole.
Then you will find the rest of tops with t-shirts and jackets.
The choice is yours!
Keyhole Cutout Backless Crop Top Bra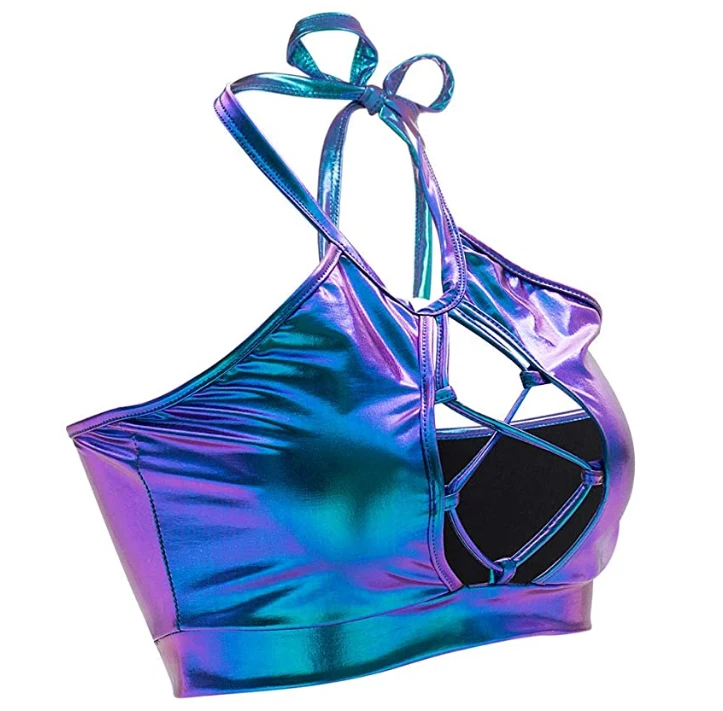 Harness Waist Bikini Chain Bra Body
Rave Hologram Body Chest Harness
Women Shiny Star Tube Top Halter
Camisole Spaghetti Straps Tank Top
. Holographic and Iridescent T-Shirts
Holographic Shirt Shimmer Sparkle
Mesh Tops Long Sleeve Sexy Tops
. Holographic and Iridescent Jackets
Rainbow Jacket Iridescent Transparent
Holographic Jackets Shiny Metallic
Waterproof Rain Jacket Lightweight
Rainbow Custom Black Reflective Jacket
4. Holographic and Iridescent Bottoms
Here are great holographic bottoms items that could greatly fit your selected top.
We made sure each one of them could fit any specific style you had in mind.
Holographic High Waisted Bottom
Holo Lace-Up Festival Booty Shorts
J. Valentine Women's High-Waist Short
Shiny Holographic Mini Skater Skirt
5. Holographic and Iridescent Shoes
Here are all the shoes or footwear for the top or bottom you have selected.
Some outfits that are not holo do work with a nice pair of holographic shoes though.
Many styles are displayed below, we let you pick the one that best suits you!
Cape Robbin Radio Holo Platform
Cape Robbin Downshifter Sneakers
Women's Chunky Platform Sneakers
Fashion Leather Women Sneakers
Adidas Grand Court Tennis Shoe
Women Holographic Iridescent White
adidas Women's Adilette Shower Slides
Women Holographic Metallic Pyramid
Holo Leather Glitter Fashion Sneakers
6. Holographic and Iridescent Accessories
Holo can also be added with specific touch it can go from some glitter to fanny packs to even belts or hydration backpacks.
Find the unique touch you need to complete your perfect outfit!
Unicorn Snot Holographic Body Glitter
3 Pieces Women Transparent Belt
Holographic Chunky Cosmetic Glitter 
2 Pieces Holographic Fanny Pack
Holographic Fanny Pack– Fashion
We will keep on refreshing this listing as new great products pop up from time to time, and the idea is really to provide the best selections so you can be confident regarding what to buy for your next festival or event.

We hope that what we listed did help you or inspired you, saving you some time in your research.

Enjoy your festival or your event!
Take care!